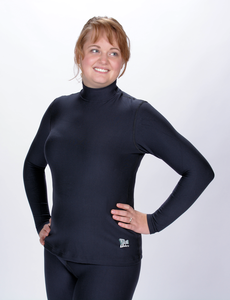 Top Long Sleeve Mock Turtleneck Women's
THE ANSWER TO OUTDOOR COMFORT

Grays Harbor Unders Tops are a base layer made with the same dual layer material used for the Tights. It transfers and keeps moisture away from your skin and helps regulate your temperature. This 4-way stretch material allows for a perfect fit. The fabric also offers anti-microbial properties to help prevent the growth of odor causing bacteria. The mock turtle neck design helps protect from chafing of outer garments and can keep you cool with the addition of water on hot days. The Long Sleeve Top is the perfect garment outdoor work and play.

The design of Grays Harbor Unders Tops helps regulate the body temperature. This versatile garment can be worn in any weather situation. Temperature extremes from near freezing into triple digits can be managed with the addition and subtraction of air and water. This Top keeps you warm in the cold, and cool in the heat.

Grays Harbor Unders Tops pack small, wash easy, and give you the ability to stay comfortable in any weather.

GHUnders – the freedom to work and play as long as you like!

Regular T-shirt sizing.

Made in the USA
---
We Also Recommend
---